The Russian language worldwide
At the Pushkin State Russian Language Institute the live part of the training program "The Russian language and education in Russian in Russian international positioning system" was held in the period from 26 to 28 October, 2016.  
This is the first such a program in our country: on behalf of the Ministry of Education and Science of the Russian Federation its developers became the Federal Agency of Rossotrudnichestvo and Pushkin State Russian Language Institute, whose long-term mission is teaching, study and dissemination of the Russian language abroad.
The aim of the program is to create a unified ideology of Russia's position, the Russian language and Russian education at the global level in the context of government priorities and objectives, including building on the resources and services of the portal "Education in Russian".
Participants of the program were 254 representatives from 124 Russian universities.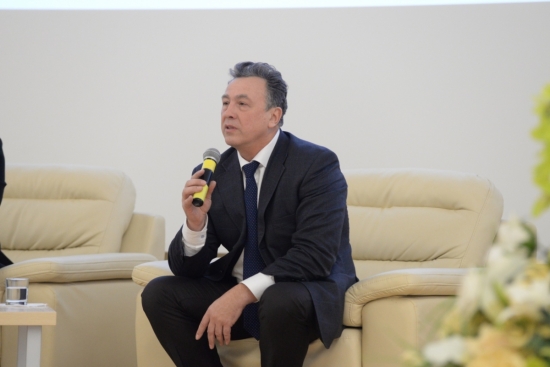 Among them there was a teacher of Russian as a foreign language of Ukhta State Technical University - Nadezhda Svirchevskaya. After successfully completed the remote unit, she was invited to Moscow for a live part of the training program. In the section "Promotion of the Russian language and Russian education abroad: communication practices and solutions" Nadezhda made a project of the international department of USTU "I learned Russian in Ukhta." Within the framework of the project an international club "Ukhta +" was created . Its goal is to bring together young people from other countries, who was trained at the preparatory department of USTU, is studying now and those who are planning to study the Russian language at USTU.
- The severe North has got warm embraces, - explains the idea of ​​the club N. Svirchevskaya. "Ukhta +" means plus such cities and town as Luanda (Angola), Kathmandu and Pokhara (Nepal), Accra and Kumasi (Ghana), Mumbai (India), Kinshasa (DR Congo), Lagos and Maiduguri (Nigeria), Banja Luka (Bosnia and Herzegovina), Manila (Philippines), Harare (Zimbabwe), Puebla (Mexico), Belgrade (Serbia), Brazzaville (Congo), Khartoum (Sudan), Kampala (Uganda) ... If the motto of RUDN University graduates is "Moscow made us friends", our international students are proud of studying the Russian language in the birthpalce of the first Russian oil.